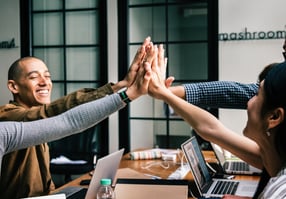 Policies are essential in business, especially as organizations grow in staff and stature.
Guidelines should extend past cellphone rules and family leave protocols. Franchisees must look beyond social media guidelines and lunch breaks. They must commit to providing an uplifting environment so they are more likely to hire—and retain employees who enjoy coming to work.
This practice is evident at Neighborly, which instills values around "Living R.I.C.H." The theme is based on respect, integrity, customer service and having fun. Dina Dwyer-Owens, co-chair of Neighborly, devotes much of her time to educating professionals about workplace culture and ethics.
Franchisees can create their own rituals, says Dwyer-Owens. First, though, leaders must show their personal commitment. "Testing and gamifying" can be effective in getting buy-in, she says.
"When we introduced our values, we gave a laminated card to each team member," she says. "For 90 days they could 'verbally beep' and call people out when [those colleagues] had an opportunity to live the values but may have messed something up."
To the surprise of the executive team, Dwyer-Owens says, staffers studied the laminated cards and loved the feedback game. After the trial period, they unanimously bought into the values.
Related: No Room For Toxic People in Successful Business
A new generation of standards
Researchers at California State University say employees want a work culture that supports true flexibility, engagement and work-life balance. Lindsey Trimble, assistant sociology professor at CSU Channel Islands, says people don't simply want policies about flextime and paid leave. It's the cultural beliefs around those policies that matter, says Trimble.
Public recognition for a job well done, tutelage and tuition reimbursement are especially attractive to young adults, Trimble notes.
Mentoring is important for young people as well. Franchisees like Stephen Sarafin, owner of a Window Genie shop in New Jersey, says being a positive role model has helped his business flourish.
"I try to be there for employees, encourage and educate them," he says. "I try to show them how to be good citizens and good employees." Sarafin also teaches his charges about the operational side of business. "I show them where the money goes."
Good deeds
Carol Kivler, founder of Kivler Communications, says small, kind actions can go a long way in boosting morale. She suggests that leaders set a goal of performing five good deeds a month. It can be as simple as leaving a candy bar on an employee's chair or attaching balloons to someone's computer screen. If someone has been working late and missing dinner at home, Kivler says bosses could buy a restaurant gift card to show appreciation.
These are not big or costly things, but they show team members that you care and notice. "We've lost a bit of that," Kivler says. It boosts morale, motivates people and can improve the bottom line, she adds.
"People are your biggest commodity in business," Kivler says. "Take care of people, and they'll take care of your customers."