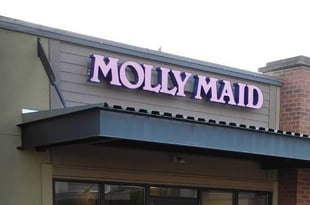 Dwyer Group provides needed instruction and hands-on learning for all of its franchises.
Franchise owners just starting out typically look at their lengthy to-do lists with anxiety.
Checklists, phone calls and training can help them, says Julie Jennings, a franchise consultant for Molly Maid.
Jennings and nine others are part of the Sure Start operations training team at Dwyer Group's corporate office in Ann Arbor, Michigan.
Jennings says she likes to "chunk things down" for new entrepreneurs. The Molly Maid training program runs 6-8 weeks, and it all begins with a list.
RELATED: Molly Maid and Mr. Handyman Continue to Give Back
"We break it into manageable weekly tasks, starting with the longer ones like applying for Employer Identification Numbers, office insurance and finding cars," Jennings says. "I highlight each week for them, so they're not doing a million things at once and never finishing any of the tasks."
A reassuring process
As newcomers tackle their agendas, Jennings stays in touch to assist with challenges that may arise. "I want them to know I'm here to help. We plan weekly phone calls, track tasks and set up new tasks for the coming week. I'm always checking with them in between."
Midway through the training period, Jennings provides owners with a target date to complete their lists. Although numerous phone calls and details can feel overwhelming, "when things start falling into place, there's a sense of relief," Jennings says. "It keeps people focused and motivated. They're excited to be getting things done. It's a snowball effect."
When the checklist is done, franchisees receive five days of "university level training" in operations at the Ann Arbor offices. They also visit one of four designated Molly Maid shops in the United States. This helps owners feel more comfortable with the business model.
Showtime
Owners are assigned a franchise consultant who is readily available for phone calls and emails. Immediately after training, new owners do a "soft launch," which includes scheduling estimates and cleans.
They aren't "officially open just yet," says Jennings. The following week is when business gets underway. "They are excited and we encourage them to take it one day at a time," Jennings says. "When they open, they will have gone through the owner training. They know there's a way to do this right." Several weeks later, the franchise consultant performs a 2-3 day on-site visit.
"It's a lot of information to digest and put into play," Jennings says. "We're on the phone with [new franchisees] a lot. We want to make sure they're set. We have time on our side, and we make the most of it."