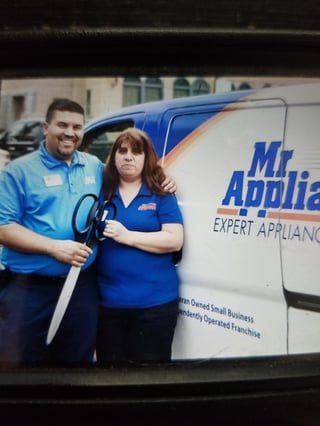 It's Valentine's Day, and this week we are focusing on married couples who work side by side, successfully running their businesses together. Today we share some tips from a Navy veteran and his wife who focus on giving and growing as they build their Mr. Appliance franchise.
There's a new balance of power that Amy and Ed Vargas are embracing.
The couple—owners of Mr. Appliance of Leesburg and Martinsburg in Virginia since June 2016—is sharing responsibilities for their home-based business.
It wasn't always this way. Ed had previously owned a different franchise and shouldered the daily burdens of running a business. These days, Ed tends to service calls, and Amy manages marketing. They split the administrative duties.
With 22 years of marriage and three children, Amy and Ed spend much of their waking time
together. Did they ever imagine they'd be working side by side?
"There were times I thought about it," Amy concedes.
Ed, however, says he didn't think it would happen. Regardless of how he imagined the future, he attributes his 26 years in the Navy for being well prepared for the Mr. Appliance venture. "The Navy has shown me how to be a good leader and keep an eye on details while looking at the big picture."
In addition to preparation, two other words offer a peek into the Vargases' franchise and family success:
Give: According to Ed, to ensure things run smoothly, "sometimes you have to give a little, because it's about the business." Amy adds: "There are times that you just want to give up, but we have worked so hard to build our business. We push through it and look to what's ahead." The couple's children—ages 22, 18 and 9—have also contributed. Amy says "they're wonderful" and that they enjoy helping when necessary.
Grow: As many couples reflect on relationships around Valentine's Day, Ed says he's enjoyed "watching Amy grow and change" as they build the franchise. Amy, too, strikes a sentimental note, adding: "Even though there are times Ed drives me crazy, I have to say that I would not change anything. He is a great husband and business partner."
RELATED: 10 Terrific Books for Entrepreneurs and the Business Savvy
Of course, disagreements arise. Ed settles the arguments, Amy says. "We don't dwell on what has happened. We just move on," she says.
As with many entrepreneurs, the Vargases say it's often difficult to separate work and home life. Even with a limited amount of free time, they enjoy relaxing with their children.
"One day we hope they will want to take over the business for us," she says.