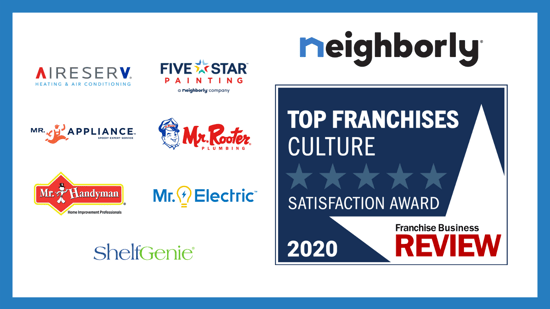 At Neighborly®, our code of values is at the very heart of what we do. Because of those values, we have a company culture that not only supports the success of our franchisees, but is now gaining national recognition.
Franchise Business Review's First Annual Culture100 Awards
In October 2020, seven Neighborly brands were recognized in Franchise Business Review's first-annual "Culture100" awards as those among the best in the business. We are honored to have seven of our brands included within the top 100 franchise companies in the nation with the highest ratings for leadership, mission, community, and overall franchisee satisfaction.
To determine the quality of a franchise company's culture, Franchise Business Review surveyed over 28,000 franchise owners from more than 300 brands. Franchise owners answered a series of questions that examined each franchise's team culture, brand vision, honesty and integrity, and overall support. Seven of our brands – Aire Serv®, Five Star Painting®, Mr. Appliance®, Mr. Electric, Mr. Handyman®, Mr. Rooter®, and our newest brand, ShelfGenie® – were found to be among the highest-rated brands in these areas. That seven Neighborly brands were found to be among the top 100 franchises in each of these areas is a tremendous honor.
We Live and Breathe Our Code of Values
But it is also no accident. At Neighborly, one of the most important reasons franchise owners choose us is because of the way we live and breathe our Code of Values. Those values were certainly a big reason why Aire Serv franchise owners Joe and Kristen Severson chose a Neighborly brand. In their search for a franchise, it was the code of values that stood out most. "When we saw the code of values, we said 'This is what we've been doing, but now it's put into words, and we can partner with a company who does that'."
Treating others with respect, acting with integrity, and staying focused on our customers is the Neighborly way. Craig Kantner, a Mr. Rooter franchise owner, agrees. "I would definitely recommend Neighborly to other people," he said. "The reason why is you just want to simply start with their code of values. The code of values is not just print on a piece of paper; they live it, breathe it, and practice it. And if you put those code of values into play you're going to be successful…There's truth behind the values they present."
Discover Which Neighborly Brand Franchise Is Right For You
As Neighborly franchise owners, each member of our family of brands understands the importance of allowing our code of values to guide all that we do. It is a sad reality that many people no longer feel a sense of confidence in some home service providers because of how they've been treated in the past. But by operating by a code of values, our franchise owners are dedicated to changing all of that. By treating our customers with respect, listening to them, keeping to our word, communicating honestly, and much more, we work every day to earn the trust and loyalty of the communities we serve. That our hard work is now being recognized with awards simply tells us that we must be doing something right!
Would you like to learn more about Neighborly's family of brands and what makes our franchise opportunities so unique? Explore franchise ownership opportunities in your area and take our quiz to determine which brand is a best fit for you by visiting our website today!