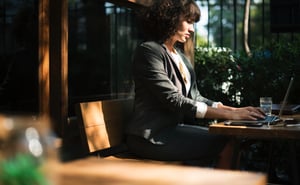 Long hours and relentless work don't necessarily make people more productive. A Neighborly employee has found a healthy balance that benefits her career and family life.
The number eight seems to be significant to achieving work/life balance each day:
Eight hours for work
Eight hours for sleep
Eight hours for personal time and activities
Still, research shows Americans are working far more than 40 hours a week, a trend that worries health and productivity professionals. Clocking more than 50 hours a week doesn't make people more productive, experts say. Moreover, it can lead to an increased risk of heart disease and stroke.
Franchise owners must be aware of how many hours they put in on the job—remembering that thinking about work counts, too.
Germany boasts the largest economy in Europe. According to Alex Kramer, a reporter for HealthDay, employees in this country work less than 36 hours a week.
Related: How procrastination kills your productivity
Closer to home in Waco, Texas, Jana Dvorsky, Local Marketing Specialist for Glass Doctor, created a great work/life balance. A married mom with two daughters ages four and one, Dvorsky praises Neighborly for incorporating health and wellness into its culture.
The company's "Living R.I.C.H." philosophy—based on respect, integrity, customer service and having fun—has been integral to Dvorsky's improved physical and emotional health: "The Code of Values is what brought me here two years ago, and it keeps me here," Dvorsky said.
In the past, she worked for just one company. Now she assists 180 franchisees. "But I work smarter, and I'm more productive and focused."
In the office, standing desks, 15-minute breaks during the day, walking meetings and an on-site gym all reinforce a positive work experience. It helps "keep my mind fresh and creative—not overwhelmed," she says.
The turning point
Dvorsky admitted she didn't always live a healthy lifestyle. A wake-up call came a few years ago when a close friend succumbed to leukemia. In 2015, Dvorsky ran the "Miracle Match Marathon" in Waco to raise money and awareness for bone marrow and stem cell transplants. Over the years and during her pregnancies, Dvorsky has run in nine half-marathons (13.1 miles) and completed one full 26-mile race.
"When I'm home and start thinking about work, I pick up my kids and go for a walk or run," Dvorsky says. "It's the best way to get through a problem. There's no end to how much time you can spend in front of the computer. I know when to set the phone face down and unplug."
Dvorsky's evening routine includes yoga, reading a devotional and journaling. She suggests doing puzzles, taking up sewing, scheduling a spa appointment, or listening to a podcast as great ways to take a break from work.
It's especially important for working moms to unplug, Dvorsky says. Women have to discover what keeps them "cool and collected." The dishes and laundry can wait, Dvorsky says. "If my kids are healthy and our family is happy, that's what matters to me." She also suggests recruiting a friend to hold you accountable for work/life balance activities.
Working less than 50 hours per week herself, Dvorsky says those who feel overwhelmed can start by setting small goals and prioritizing. "I don't hold the tension in so much and that makes a huge difference."