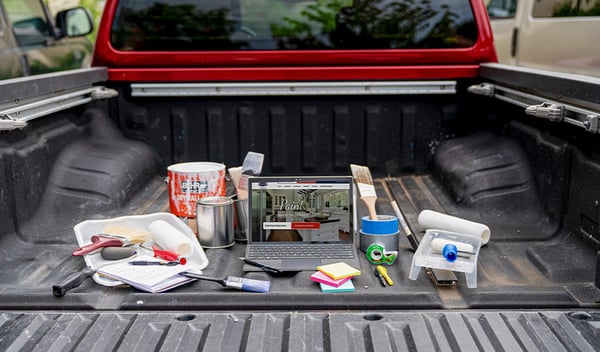 Is starting a painting business a good idea? It certainly can be, as long as you find the right opportunity. The good news is that you may not even need painting experience to own a painting business. What you do need is the ambition to seek a new path and a willingness to tap into all available resources to help you on your way.
Current trends indicate that, with expansion in the housing market and construction industry, now may be a great time to get started in the painting business. In the US, the industry has enjoyed solid growth over the past five years, with revenue expected to reach $43 billion in 2019. And according to the Bureau of Labor and Statistics, employment demand in the painting industry is projected to increase by 6 percent through 2026, which is a good indicator of continued growth. While the painting business growth outlook looks promising, as with any new business venture, there are both pros and cons to evaluate.
Advantages of Starting a Painting Business
There are typically minimal startup costs. You don't need to purchase heavy machinery or high-tech equipment, and you don't need to rent a warehouse or large office space.
There are no education requirements. You can own your own painting business without investing time and money in a college degree.
Depending on the state you live in, hiring and training employees may be an easier process than in other industries that require more technical training or experience.
There are few certification and/or licensing requirements, depending on your state.
The target audience—homeowners, construction businesses, and rental property managers—is relatively easy to identify without conducting extensive market research.
There are many franchise opportunities in the painting industry. Franchising can provide your fledgling business with all the benefits of a well-established brand and proven business model.
Disadvantages of Starting a Painting Business
Your painting business may encounter some seasonal fluctuations.
There may be employee liability issues. As a business owner, you'll need to consider liability for damage incurred by your employees or for injuries that your employees suffer while on the job.
Although hiring skilled painters may not be too difficult, finding reliable, long-term workers may be more challenging.
You may face heavy competition from rival painting businesses or home improvement businesses that offer painting services.
While recognizing your audience may be easy, advertising to stand out from the crowd may be hard. Navigating social media and digital marketing—which are essential in today's business climate—is likely to be time-consuming.
Establishing your identity in the industry and creating brand awareness may take years.
The Franchise Advantage
If you are intrigued by the idea of being your own boss and enjoying the freedom that comes with it, why not consider a painting business? A great way to avoid many new-business pitfalls is to pursue a franchise opportunity with a well-established industry name like Five Star Painting. Five Star Painting franchisees enjoy the best of both worlds: the independence of owning their own community-based small business, along with the support and expertise of a large North American company that has been in operation for more than twelve years. As part of Neighborly's community of home service experts, Five Star Painting provides benefits that independent startups just can't match:
Cutting-edge marketing strategies, including digital advertising, a website, and marketing professionals to help your business be highly visible year-round
Cross-promotional advertising and business leads through Neighborly's expansive network of home service businesses
Comprehensive Sure Start training—your own personal franchise business coach will walk you through all aspects of owning a painting business
License to use established trademarks and recognizable brand materials/logo to set your business apart from local competitors
Ongoing coaching, training, and support for the life of the franchise agreement, including networking opportunities, preferred vendor discounts, and more!
Open the door to a new venture today! Contact Five Star Painting online or call (888) 251-7836 to speak directly to a franchise advisor.