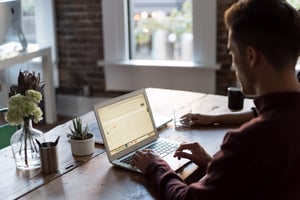 Neighborly® provides entrepreneurs with several of software tools. Still, there are others you may want to learn about—and use in the new year.
Franchisees have access to a trove of technology for managing customer relationships, timesheets, social media and more.
Owners, however, aren't limited to the software available through their brand.
For example, point-of-sale (POS) platforms vary from brand to brand within Neighborly. Rachel Chaney, a local marketing specialist for Mr. Appliance®, says, "Some work better with certain service verticals."
Though Mr. Appliance uses Service Titan, Chaney says every brand "has a consistent and concise POS tracking ability." The software connects to specific marketing campaigns and metrics, she says. "It helps us determine return on investment."
Another option is Lightspeed, a cloud-based merchant services application for small-business owners that includes customer relations management (CRM) and analytics that monitor inventory and staff.
Consider these four tech tools that are also worth exploring:
1. Hootsuite is an automated scheduler that enables business communicators to plan posts and cross-promote in one main portal. It interfaces with major platforms such as Facebook, Twitter and Instagram, helping users to save time. Analytics are available, too.
2. Hotjar enables users to track web traffic and understand visitor and customer journeys. Did someone enter your site via a landing page, Google search or a blog post? How long did they stay on the page? When did they leave? "Heatmaps" show traffic flow and identify the specific copy and calls to action that resonate with visitors.
3. Owners in search of publicity can subscribe to Help a Reporter Out. It's a free email service that connects reporters, producers and writers with sources and experts in various niches. Owners who want publicity, be it nationally or locally, can subscribe to HARO and pitch traditional and online media outlets and journalists.
4. Chaney also favors Soci.com The marketing and publicity tool is part of Neighborly's offerings; Chaney says it's ideal for owners with multiple locations or franchises. "It gauges customer sentiment and content on a franchise owner's website and Facebook page so they can push out local content," she says.
The key is to find the right tools that complement your workflow.