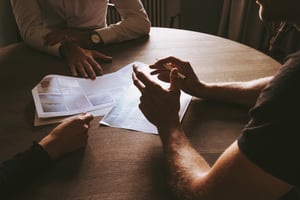 Potential franchisees must explore several factors before committing to a home service business. This guide can help.
Big decisions about work and life can feel overwhelming. Still, the "one step at a time" adage reminds folks to break down the decision-making process.

Entrepreneurially minded people pondering the franchise route must consider three factors:
Knowledge and experience. Skills and interest are integral to a successful franchise. Just ask Russell Hall, who started mowing lawns as a teenager. Hall stayed with his vocation as he grew up, opening a local landscaping business in Arkansas. His enthusiasm, however, turned into exhaustion as Hall worked long hours and had little time with his family.
"I realized I was doing all right financially, but I was doing it all wrong," he says.
When a Neighborly representative cold-called him in 2012 to discuss franchising, Hall was debt-free but had to learn the Grounds Guys franchising model. Hall's decision to stick with his passion of lawn maintenance, try entrepreneurship and adopt a new way of doing business through franchising paid off. He sold his Grounds Guys shop in 2016 for more than he could have imagined.
Education is important as well, but it's not a requirement. Robert Tunmire, vice president of franchise development at Neighborly, says not all high-achieving shop owners are college grads. The main driver of success, especially in the home services sector, is someone with the "internal motivation to do whatever it takes, as long as it's ethical," he says.
Related: Do you need a degree to run a franchised business?
Local markets and community needs. Aspiring franchisees who research the geographic area they want to serve can gain crucial insights. It's important to understand the challenges of residents and commercial businesses, along with which markets might be saturated. Owners who opt for the franchise model buy into designated territories, says Rachelle Kemp, a technical services specialist and franchise consultant for The Grounds Guys. She points out, however, that the size of the geographic area isn't as important as superior customer service. "The territory isn't where you grow your business; it's the customers," Kemp says. When existing clients "see good results at a good price," they'll refer others, she says.
Finances and startup costs. The financial wherewithal to launch—and sustain a franchise business—mustn't be taken lightly. Potential owners might discover their accounting practices require some attention. Judy Rosner, a vice president at Republic First Bank, says co-mingling personal and business bank accounts can be problematic. The first thing lenders review when considering a business loan is the applicant's personal credit score, Rosner says. Financial and tax advisors recommend that entrepreneurs separate private and corporate finances.
"Personal credit really matters," Rosner says, "We like to see cash flow, so we suggest separate credit cards—one solely for business." Co-mingling business and personal finances can confuse entrepreneurs and "create suspicion" with state and federal tax bureaus, Rosner adds. One suggestion: Budding franchise owners should routinely monitor their credit reports. It's best to be forthcoming if there is a "ding" on the report, Rosner adds.
Credit reports can be helpful, and families may be supportive as well. Geoff Morgan, a CPA and former commercial loan officer, says many small-business owners borrow money from relatives. Another option is to secure funding through the U.S. Small Business Administration. Morgan says the SBA can "set itself up as a guarantor for the bank," which reduces the lender's risk.
Once the homework and soul-searching have been completed, potential franchisees should approach a franchise company, such as Neighborly. An online request or phone call to the corporate office is a good first step.