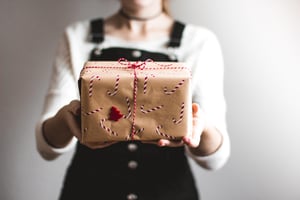 From coats and dog food collections to pro bono repairs and team sponsorships, Neighborly® opens its generous heart during the holidays—and year-round.
Neighborly may have designated territories for franchisees, but when folks are in need, there are no boundaries.
Just ask Doyle James, who has been with Neighborly for 22 years. James, the president of Mr. Rooter®, has shining examples of how owners and executives' team up to assist communities near and far. It's not only during the holiday season, either.
"The franchise network supports their own," he says. "It's amazing what Neighborly and Mr. Rooter can do."
When Hurricane Michael slammed Florida in October, franchisees Pam and Scott Hobbs in Panama City were frightened, James says. The couple employs approximately 60 people in their Mr. Rooter shop and a private construction company. Once the storm passed, the Hobbs found only tree damage on their property. Their employees, however, weren't as fortunate. Some lost their homes, James says. "The entire area was devastated. There wasn't phone service for weeks," he says.
"The Hobbs knew their businesses could have been completely wiped out," James says. Though they were spared, the couple didn't want to walk away from their employees. "They decided their mission was to rebuild for their team, or people would have lost their jobs."
Altruism is contagious
James says word about the devastation in Panama City spread through the franchisee network. A franchisee in Tallahassee, Holly and Justin Tillman, found there was a need for generators and other supplies. The Tillmans reached out to other franchisees and rounded up the items. Another franchisee, Sheryl and Andrew August set up a GoFundMe page. James says the campaign raised more than $10,000 for team members who lost everything.
A month after the storm, James asked the Hobbs what their community needed. They said unseasonably cold weather had hit, but kids didn't have winter coats.
"We had one day to send a message to the Neighborly team and collect the coats," he says. James then packed his car and drove from corporate headquarters in Texas to Florida to personally deliver the donations. "People were very generous." There was a surplus, James says, that was given to a local outreach center.
The Hobbs were "so grateful," James says. "They wanted to do the right thing. It was inspiring."
Related: Invest in your community with franchise ownership
Helping people—and pets
In Houston, Mr. Rooter franchisees Natalie and Roger Goertz have shown that owners needn't wait for a disaster to support their communities. They routinely collect food and pet supplies for a boxer rescue organization. Naturally, when deadly floods hit the Houston area last year, the couple sprang into action, gathering dog food and other provisions to help customers whose pets had been displaced.
James says Mr. Rooter and Neighborly work year-round to share goodwill:
Many shop owners "continually" work with their local Ronald McDonald House. "A common way to contribute is our skill set. They can help with a plumbing or HVAC maintenance or repair," he says.
Neighborly franchisees like to support youth athletic teams and advertise at high school and college sporting events.
Mr. Rooter owners enjoy the "Let it Flow" program, a fun initiative that began three years ago. They pick a random day to waive some service call charges. When a technician completes a repair to a leaky faucet, the homeowner learns there's no charge. It's a nice feeling, James says, adding: "It also makes for great stories."