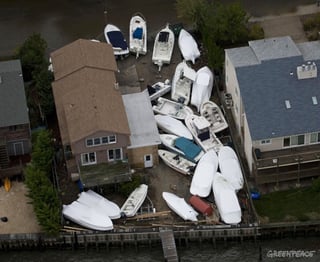 Being self-employed doesn't necessarily mean loneliness, says one Dwyer Group franchisee. When a natural disaster struck, she came away with a renewed sense of community.
"All hands on deck."
Photo credit: Greenpeace
That was the approach after Hurricane Sandy pummeled the Eastern Seaboard in 2012. "There was never a second thought about helping," Renee Krukovski says.
The super storm "only toppled trees" in northwest New Jersey, where Krukovski lives and runs Rainbow International Restoration.
Some 100 miles south, however, many beachfront communities suffered extensive damage; 12
people died in the storm. Krukovski said she and other franchisees received calls from their counterparts in hard-hit areas at the New Jersey shore and in coastal New York. "They said, 'Hey, guys, we're slammed,' and I just said, 'We'll bring whatever is necessary.'"
Krukovski says she and numerous franchise owners descended on nearby Staten Island, one of New York's five boroughs, and were shocked to see the extensive destruction.
"There were shipping containers that had been blown five to 10 blocks into residential neighborhoods and fire coming from gas lines. … As a professional, you go into survival mode, put on a happy face and do what you have to do," she said.
When authorities from the Federal Emergency Management Agency arrived the following day, the volunteers "said our goodbyes," but there was more work to be done.
"I was asked by other franchise owners to help at the Domino Sugar Factory on the Hudson River in Yonkers, New York." Throughout November and December, Krukovski shuffled her three employees so she could assist in Yonkers, a 60-mile drive from home.
RELATED: A Positive Attitude in Business is Essential
"I had my certified technicians stay at home base in northwest New Jersey to answer calls." Krukovski says the situation was difficult, but, "We were able to get a lot of friends and family who were out of work at the time to pitch in." Dwyer Group franchisees from northern New Jersey pitched in as well.
That's one of the many benefits of the franchise model, Krukovski says. "We don't compete, because we have territories. It was traumatic to see but nice to know that we helped people who couldn't do it for themselves."
It's gratifying to be there for someone else, she says.