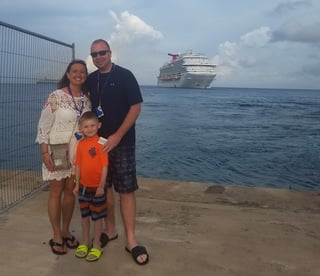 Last September, Dana Jennings of Rainbow International Restoration, left the Dwyer Group Reunion with a Top Gun Award, the Restoration Project of the Year Award, and tickets for an all-expense paid, 7-day cruise with his family. Jennings was entered into the cruise drawing because of his participation in the People Like You franchisee referral program.
Here is how he made it happen!
On April 15th of this year, Dana, his wife Kari and their son Isaac, set sail for Jamaica, Grand Cayman and Cozumel. Dana appreciated getting a chance for uninterrupted time away. "My favorite part of the whole experience was being with my family and not having phone service!" he said.
People Like You is a franchisee referral program that is a win-win for the franchisee making the referral and the company as well. This is how it works: Franchisees like Jennings refer a candidate for possible business ownership. If they are awarded a Dwyer Group brand, then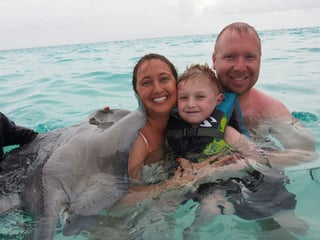 the referring franchisee receives several perks for their referral. These include: $2000 cash for the first successful referral ($3500 for each additional in the same year), Reunion accommodations for the following year, entry into a quarterly drawing, and then entry into the annual drawing for the 7-day cruise.
Of course, the person awarded the new business wins biggest of all, as he embarks as a new member of the Dwyer Group family of brands, and all that that entails.
"We will create stronger brands by referring people who we know are qualified and capable of operating a business," Jennings said. "And if anything, do it for the money and chance to win a cruise!"
When it comes to seeking out potential future business owners, Jennings suggests looking for people who are in positions in their jobs where they are not allowed to perform up to their capability. He said to look for natural leaders, people that are always striving for better. "You may think of people who never considered owning their own business but in talking to them, you may light a fire. You may put an opportunity in their minds that may be life changing, but never would have gotten there if you didn't talk to them about it."