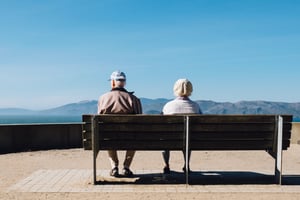 The average age when people retire is 62. Franchising is an option for many folks who aren't prepared—either financially or emotionally—to leave the workforce.
Retirement isn't for everyone.
Older individuals who want to stay busy and continue to pursue their financial goals often explore the franchise model.
Mike Hawkins, a franchise developer for Neighborly, says there's room in franchising for people who have retired yet still want to achieve certain goals.
"The business is a vehicle," he says. "People who have the energy and drive—and want to be useful—will call."
Hawkins sees three common circumstances.
"Some are let go at the tail end of their career when they are around 60," he says. "They're almost ready to retire and are being replaced by younger people."
Others feel they don't have the freedom necessary to reach their financial and personal goals. "Many people can't achieve their dreams in their jobs, so they go solo," Hawkins says. This population "has great knowledge and experience and can put it to work with an investment and discipline," he says.
So, why are Baby Boomers, in particular, curious about the franchise model? Hawkins believes many executives don't want to reinvent the wheel.
"People 50, 60 and 70 are buying franchises because the proven systems, training and support are already in place," he says. They come in with good business, management and leadership skills and can hire people to perform the various duties that the business requires.
In other cases, independent trade professionals who have years under their belt sometimes reach out to Mr. Rooter, Mr. Electric, Aire Serv and other Neighborly brands that do a lot of conversions. They've had some level of success and know a trade.
"The owners have experience but never had the education and resources to develop great systems to be successful," Hawkins says.
Not so fast
Research finds the average retirement age is 62. Still, one in three Americans has nothing saved for the golden years. Franchising provides "freedom and latitude," Hawkins says.
Another common scenario, Hawkins says, involves conversations around a "purposeful retirement." He recently received a phone call from someone who shared, "I'm retired and bored.'"
The franchise model is also attractive to folks who quit working a year or two ago and now "want to do something," Hawkins says.
Providing local jobs and attending networking events help older owners stay connected to their communities. Corporate business coaches, ongoing training and support for technology, software and marketing help the transition as well.
Another advantage of joining Neighborly is that one brand has access to all Neighborly franchisees. "They are just a phone call away," Hawkins says. When joining a franchise, you become part of a family, he says.
As most people near retirement, it's important to evaluate their family finances and needs.
For example, Hawkins says, a 67-year-old woman thinking about leaving her job recently contacted him about a Five Star painting shop. She has a goal of building a business and turning it over to her son and nephew, he says.