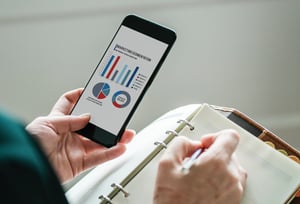 Independent HVAC companies tend to experience seasonal slowdowns. Corporate marketing and the support that's available through franchising can help sustain them year-round.
Successful franchisees know how to stay busy and generate income during slow seasons.
That's especially important in the heating, ventilation and air conditioning (HVAC) business, as well as the lawn and plumbing trades. The need for such services fluctuates throughout the year, leaving many entrepreneurs concerned about cash flow.
Jerry Jones, a franchise developer for Aire Serv, says independent owners don't have to go it alone. Franchising an existing HVAC business is a good alternative, Jones says, because "marketing is huge."
Aire Serv—like the Neighborly brands Mr. Rooter and Mr. Electric—is an emergency response company, Jones explains. "We have peak times in the summer and winter with floods, broken pipes and electrical problems. When companies are busy, they don't market and promote like we do. They can wind up in the valley."
Independent owners who want proven business strategies that may reduce the number of slowdowns should consider franchising. "Aire Serv positions businesses digitally and physically in their communities," he says.
The "MAP" approach—marketing, advertising and promotion—is part of Neighborly's strategy for consistent visibility, Jones says. Those analytics are monitored continually. "Most smaller companies aren't doing that."
Neighborly's team provides online marketing and advertising support, which includes website tracking and search engine optimization, along with the data on direct mail and billboards.
"It's the biggest asset, next to having a national brand that has training and support," Jones says. "It's the reason people look to the franchise model."
Related: How is Owning a Franchise Different from Running a Small Business?
Another way Aire Serv owners reduce cyclical slowdowns is through maintenance agreements.
"If they sell these periodic 'tune-ups' for furnaces and air conditioning units, franchisees are more apt to stay busy and avoid the valleys," Jones says. For instance, technicians making service calls during the busy summer or winter months are encouraged to sell these plans. "This will allow them back in the home during slower cycles," Jones says.
He points out that the strategy helps with staffing, as well. Smaller outfits may have to lay off workers "when the phones aren't ringing." Many are rehired in March or April, once business picks up. Having maintenance agreements and consistent marketing means "they don't have layoff cycles," Jones says.
Not all Aire Serv franchisees have owned a business prior to joining Neighborly. Jones says corporate professionals who don't have experience in HVAC "but are open-minded and coachable" often join the company. These folks may not have hands-on experience or the necessary state licensing certifications.
"They may acquire an existing business and keep a few employees on board who have the technical training and skills," Jones says.