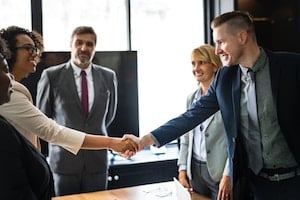 A plethora of online learning opportunities won't replace the energy of like-minded professionals learning from respected leaders—in person.
Note to self: Save the date.
Conferences are alive and well, as entrepreneurs seek knowledge, wisdom and skills from trusted business leaders. Though interactive classes, webinars and virtual summits offer conveniences that might save time and money, there's something to be said for human interaction at a live gathering.
Here are six conferences that offer big names and plenty of learning opportunities for aspiring and seasoned business owners in franchising:
Motivational. Former pro athlete and best-selling author Lewis Howes headlines his "Powerful U—Time to Evolve" event in Salt Lake City in November. The theme, "Evolve Your Perception" will help attendees "expand your awareness and open you up to a whole new world of possibilities." Howes' impressive lineup of fellow motivational speakers includes Mel Robbins, Jay Shetty and Tom Bilyeu.


Sales. "People don't like to be sold, but they love to buy." This gem is from Jeffrey Gitomer, a prominent leader in sales for some 40 years. The author, blogger and speaker offers private corporate training and occasionally speaks at public events. He'll be in Dallas for two programs on Oct. 24 and 25.
Leadership. Arbinger Institute, a global leadership and management training company, bases much of its live content on its best-selling novel, "Leadership and Self-Deception." The core of Arbinger's message is the psychology of communication behind interpersonal relationships. Ron Jeffries, a software development entrepreneur, says: "The premise … is that we mess these things up, not from a lack of skill or 'technique,' but because we are deceiving ourselves about what's going on, always in the same way." Arbinger provides two-day workshops bi-monthly in Salt Lake City and Washington, D.C.


Marketing. Content Marketing World hosts one of the industry's premier conferences. Some 4,000 people attended this year's event in September. Actress and writer Tina Fey and marketing pros Christopher Penn and Ann Handley were among the featured speakers. The 2019 conference is planned for Sept. 3–6 in Cleveland. Though the program hasn't been made public just yet, keep this gathering on your radar.
Related: 5 Resources to Market Your Business
Franchising. Aspiring franchisees—and those new to Dwyer Group—will want to explore the International Franchise Expo. IFE offers 70 free seminars, including many on financing and budgeting. The 2019 expo is scheduled for May 30 to June 1 at the Javits Center in New York City. According to the IFE website, some 400 top franchise brands will be represented. For established Dwyer Group franchise owners, the International Franchise Association's annual conference is a must. The 2019 gathering is set for Feb. 24–27 at Mandalay Bay in Las Vegas.