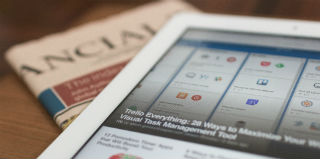 Whether you are a small business owner or a hopeful entrepreneur, there is opportunity out there on the web to learn from professionals and financial experts alike.
Many experts today deploy blogs where they share the latest news, teach you business tactics, and even help you get your new venture organized into a successful pitch to investors.
Check out 5 Great Financial Business blogs to follow:
This blog is comprehensive and includes everything from how-to articles to the news in specific sectors and trends for entrepreneurs. It does not just cover day-to-day, it is expanding on the innovative news that develops emerging industries. More so, it covers almost all sectors, including marketing, finance, technology, and even management.
FedEx Small Business Center
Surprisingly, the FedEx Small Business Center blog is in-depth and offers dedicated advice for those who want to succeed with their business. They give you tips, solutions, and actionable plans that cover everything from a local retailer to office and even e-commerce. While you might think they are all about promoting, you would be surprised to find that most of their blogs do not mention their services.
Business Insider
While technically a news publication, Business Insider operates like a blog. They cover everything from industry news and business in the country to their Top 100 lists, great charts, retail innovations, and tools.
The Harvard Business Review
The Harvard Business Review is like having an attorney in your pocket. While it is not a substitute for official legal advice, the HBR does provide you with content about entrepreneurship, innovation, liability, and more. They have expert writers that deliver fresh content weekly, and their content is well-written, researched, and easy to deploy.
Smart Hustle
Smart Hustle is a blog dedicated to helping entrepreneurs succeed. They share how-to guides, tips, and industry news covering everything from lifestyle to sales to business operations and managing your day-to-day finances. Want to know how to handle money in your new business or handle employee payroll without outsourcing? You can read tutorials that answer those very concerns on Smart Hustle.
Business owners: share what business blogs and finance websites you follow to improve your skills.