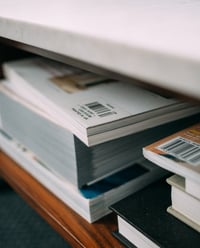 Print and online publications that cater to small business owners help motivate and educate the self-employed.
Summer reading often involves lighthearted novels. Still, ongoing professional development is crucial for entrepreneurs who want to grow their business.
Photo by Charles Deluvio 🇵🇭🇨🇦 on Unsplash
Are you familiar with these traditional magazines and online resources? You may want to take a look while enjoying the sun and surf.
Harvard Business Review publishes a sleek hard copy magazine and online web edition that is highly regarded in entrepreneurial circles. From managing yourself and others to technology, project management and emotional intelligence, HBR is worth a look.
Baby Boomer Magazine's "Boomer Businesses" section is filled with stories and insights for folks born between 1946 and 1964. A growing number of people in this demographic are delaying retirement and considering career changes. Many boomers are researching business options and learning about Social Security, health and other pertinent topics.
RELATED: 7 Important Books for Entrepreneurs
com has recently added a section for women business owners. For instance, there's a piece titled "5 Reasons Why More Women Are Making the Choice to Become Franchisees." The author writes that "for some women, starting a franchise is better than starting a business."
Success magazine is a favorite of many millennial small business owners who thrive on professional and personal development. Entrepreneurially-minded readers view such regular contributors as leadership expert John Maxwell as mentors. Among the new generation of influencers are Mel Robbins—"the No. 1 Female Motivational Speaker in the World"—and sales professional Brendon Burchard. Both contribute regularly to Success as well.
"Badassery" is a brand that publishes a magazine and online newsletter for emerging women entrepreneurs. "The global community of women living unapologetic lives" offers interviews and stories to inspire women to live with passion. Co-founders Samantha Parker and Kathy Rasmussen also co-host a podcast.
Time limitations are a concern for many franchisees. Magazines and online resources offer in-depth learning for busy professionals who may not have time to read books on a regular basis. What are you reading this summer?