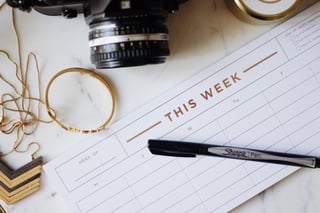 Nearly 80 percent of resolutions fail by mid-February. If your commitment has been wavering, these tips can help.
Photo by Jazmin Quaynor on Unsplash
Losing weight, saving money, improving relationships and enrolling in classes are among the top resolutions made year after year.
Why year after year? "Overall, we're terrible at seeing them through," reports NBCNews.com.
Eight in 10 resolutions fail by the second week of February, so success is unlikely. Still, there is time to re-energize—and not become a "failure" statistic.
The commitment must come from deep within, says Dan Waldschmidt, an executive business coach and trainer. "You can't be committed to a goal on the outside that you're not committed to on the inside. It can't happen. It won't happen. Not now. Not ever."
Consider these three tips to help you refocus:
Get real. Goals must be crystal clear and attainable. If you aspire to "lose weight and exercise at home in the evenings" set a more specific goal to lose 15 pounds by June 1. Then, break it down further, such as: "Lose one pound a week by exercising every night after dinner and limiting myself to one snack a day." Resolutions "that don't fit your lifestyle" are more apt to fail. Therefore, if you want to exercise at night, but your kids need help with homework and bedtime routines, you may have to reschedule physical activity to earlier in the day.
RELATED: Free Download: Create SMART Goals Worksheet
Go for incremental victories. When you focus on small wins, you can make gradual progress, says Charles Duhigg, author of "The Power of Habit." Duhigg says: "If you're building a habit, you're planning for the next decade, not the next couple of months."
Grab a pen. Research finds that writing down goals increases the likelihood of accomplishing them. According to four-time Olympian and business author Ruben Gonzalez: "This means the more you keep your goals 'top of mind,' the more your subconscious mind will work to reach them. That's why writing your goals down every day…is so important." Author Damian Pros suggests sticking with a good ol' pen and paper or making a note in your phone or laptop. "Personally, I have my goals written on a whiteboard that's over my desk so I can see them every day, but I have also written my short-term goals in my phone," Pros says.
In the end, we must be realistic and expect small setbacks. The bottom line is to stay with it.