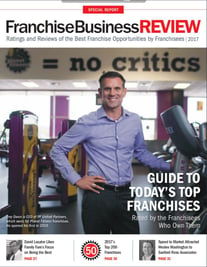 Congratulations to Five Star Painting, Window Genie and Glass Doctor for their listings in the Franchise Business Review Top 200 Franchises of 2017. Franchise Business Review is a valued resource within the franchising industry, so when this publication reaches out to survey nearly 30,000 franchise owners, participation is high. The result is a valuable list for those seeking to become franchise owners!
Each year the Franchise Business Review (FBR) conducts a survey of approximately 30,000 franchise owners to find out which brands score the highest for overall franchisee satisfaction. FBR is best known as an industry expert offering everything from funding sources to business advice, topped off with information about the best of the best franchise opportunties.
"The growth and diversification at Glass Doctor continues to grow by leaps and bounds," said Brandy McFarland, Franchise Developer at Glass Doctor. "Making this list just shows how much we at the home office, as well as our family of franchisees, are dedicated to the success of this business."
What do you look for in a franchise business model? Comment below!
According to the Special Report: Top Franchises, "When asked if they enjoy operating their business and if they would 'do it all over again,' 89% of franchisees said yes." (FBR 2017 Special Report, page 19)