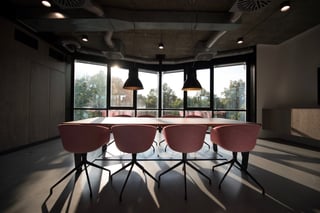 Dwyer Group takes pride in its successful business model. One Franchise Developer for The Grounds Guys enjoys educating people about prevalent falsehoods around getting started.
Popular movies that scored big at the recent Academy Awards touched on money, power and leadership.
Doug Brewer, a franchise developer for The Grounds Guys, knows that these themes aren't limited to the big screen.
Photo by Nastuh Abootalebi on Unsplash
Brewer routinely talks to folks who are considering a franchise business. He says most discussions include:
Money: Do I need a high net worth?
Power: Will I be able to make my own decisions?
Leadership: Do I have to leave my current job?
"A lot of people mistakenly believe they need a very high net worth, but that's not always the case," Brewer says. Financing options—especially for folks with strong credit and those who can put money down—are important to explore, he says.
Still, in the beginning stages, that myth is common, he says: "I normally uncover the money concerns during the initial phone call that goes over basics. People tell me their story, goals and situation. Some don't want to divulge things about money to a stranger until the second or third call."
RELATED: A Franchise Owner's Gratitude for the American Dream
Potential partners
Brewer also discusses worries about power and decision-making. People who own a business and are mulling the idea of franchising think they must give up control, Brewer says.
"We have guidelines and standard operating procedures. We don't want to micro-manage. We don't become the boss," he says. "It's a partnership that lets owners control more." Dwyer Group provides tools and systems that most businesses don't have. "We coach them on how to implement and manage the processes effectively."
The leap of faith
Of course, job security is a significant consideration when shopping for a franchise. Brewer says
many people mistakenly believe they must leave their current position to become a franchisee. Brewer says many new shop owners buy their business while working in an unrelated job or industry. "We have the tools to train people to run the business for them," he says.
"We have many successful franchise owners in The Grounds Guys who don't work in their business," Brewer says. They hire general managers to oversee day-to-day operations, because they aren't ready to leave their job or spend all their savings, he says.
In the end, franchising is a partnership, Brewer says: It's something we both should work at.