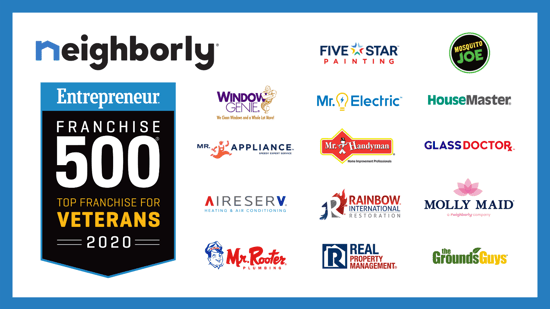 Neighborly® has long recognized that military veterans are a great fit for franchise ownership. The best franchise business owners are those who develop discipline, leadership, problem-solving skills, and the ability to excel within a proven system. These are qualities that veterans learned during their military service, making them uniquely qualified to build a successful franchise business and serve their local communities. Through business ownership and community service, veterans frequently discover a new sense of purpose that other careers may lack. When combined with the comprehensive support each Neighborly franchise offers, it is this sense of purpose that continues to attract military veterans to the brand.
Entrepreneur Franchise 500 Top Franchises for Veterans
Each year, Entrepreneur magazine compiles a list of the top 500 franchise opportunities for veterans. They survey hundreds of franchises to learn about their veteran's programs. After considering each company's available incentives, the level of support franchise owners receive, and the previous year's Franchise 500 score, they then develop a ranking of the top opportunities. To appear on this list is an honor – it means that the franchise opportunity is nationally recognized as one that truly offers the best business options for veterans.
Among Neighborly's family of brands, 14 were ranked as among Entrepreneur's best opportunities for veterans. These franchise opportunities include:
Neighborly Has A Place for Veterans
This kind of national recognition of our quality franchise opportunities is an honor, and one we work hard every year to earn. But the recommendations we prefer come from our franchise owners themselves. Take Chris Barcomb, for example, a Five Star Painting® franchise owner. After spending 21 years in the military, he was looking for a franchise opportunity with the right fit. "After reading a number of books and talking to different franchise owners," Chris said, "the franchise model made perfect sense for someone like me who was motivated, wanted to have their own business, but had no clue how to do it." He also credits Neighborly and the VetFran® program for making franchise ownership possible. "The other concepts I looked at, they weren't interested in helping [me] out in any way financially due to my veteran status. So for someone like me who was on a limited budget, I don't know that I would have been able to do it without Neighborly."
Franchise owner Quentin Smith of Mr. Appliance® agrees. Not only did Neighborly's VetFran program help make his dream of owning his own business possible, but it also gave him something more: a reason to succeed. "The whole time I was in the military," Quentin said, "you had a sense of purpose. You had a sense of being, you had a place to be and a reason to be there. When you leave the military sometimes that goes away and you don't feel that anymore. So when I saw the opportunity with Mr. Appliance, and having that sense of purpose on the same level that I had it in the military, or if not more, it was a great opportunity and that's why I took it."
There are many reasons why veterans choose to partner with Neighborly's family of brands. We certainly do our part by offering comprehensive training, ongoing support, smart technologies, and more. But one of the main reasons veterans say they choose Neighborly is our Code of Values. Not only do we value our franchise owners, including our veterans, but we seek to become respected, successful members of each community we serve.
Be Your Own Boss as a Neighborly Brand Franchise Owner
For all of these reasons, Neighborly brand franchises are a great option for veterans to consider as you transition out of the military. If you are motivated and want to be your own boss, not to mention develop a leadership role in your own life, Neighborly's family of brands may just have the business opportunity you've been looking for.
Learn more about Neighborly brands and check out each unique franchise opportunity on our website, or call (800) 700-0022 to speak directly to a franchise advisor.