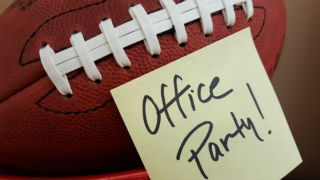 A Super Bowl party at the office is like a rite of passage.
It is what gives employees the chance to let loose and connect with one another, employers the opportunity to show their fun side, and of course, a great day of game watching and snacks to go around. Even if the office party is not hosted on the actual Super Bowl, having a pre-game festivity can get everyone in the mood for the year's most anticipated event. Check out these 10 Tips for hosting a Super Bowl Office Party your colleagues will want to attend!
10 Tips for Hosting a Killer Superbowl Office Party
Start it Early
The real game does not kick off until the evening, but there is no reason an office Super Bowl bash cannot start sooner. Have everyone arrive one to two hours before the game and make a good afternoon out of it. After all, there is always live game coverage on hours before.
Keep it Alcohol-Free
While you are hosting a party, it is an office party. Therefore, everything must remain professional. That means keeping the party alcohol-free. Doing so reduces business liability. You can still have fun by serving gourmet root beers, non-alcoholic mixers and cocktails, and tons of celebratory drinks.
Consider Giving Prizes
Even if the actual football game turns out to be boring, people leave your office party feeling as though it was worth the time if they have a party favor. IB Times recommends having guests make predictions about the Super Bowl's outcome, and the winner receives a prize.
Don't Have Golden Expectations
If you are hosting an office party, you are likely going to have an office budget. Therefore, do not set high expectations; otherwise, you will find yourself going well over budget. You can request that employees bring a few snacks and host a pot-luck style event; which may help save on the entertainment budget as well, says Trent Hamm at US News.
Have a Large Enough Room
When hosting an office party, you may be accommodating much more than your average house party. So, make sure you have a large conference room or split the party among several meeting rooms. Just be sure the game is viewable from each room hosting the fun.
Create Stations
To ensure the hardcore game fans see the action, and those there for the snacks have somewhere to graze, consider separating the groups. Have a TV and watching area in one conference room, and a snacking room in another area with the TV still tuned into the game.
Be Close to Restrooms
After feeding guests and giving them drinks, make sure the office party is accessible to local restrooms in the building. After all, you must be accommodating to all employees; including those that need ADA-compliant restrooms.
Create a Company-Friendly Betting Pool
This pool can be a low or creative entry, as in 1 paid hour off (if your company permits trading PTO time), or a quarter per square. It can add some fun in the workplace and get some friendly competition. You could even have betting pools between different departments to see who wins.
Create a Theme
Office parties are notorious for offering little to no creativity. So, try to spice things up by pairing a theme with the game. This is easy, considering you will have football and teams for inspiration.
Have Backup Plans in Place
You need a contingency plan for the office party just as much as any business strategy you deploy. Have back up for snacks that don't arrive, caterers that are late, or in case more office staff arrives than anticipated.
What are your favorite office party ideas? Have you been to a great office party in the past that you want to share? Share your comments, thoughts, and office party insight with us!